The French president's reputation continues to suffer: the economic crisis, mass discontent throughout the country, and now a love affair with the actress Julie Gayet. Of course Hollande himself denies this information, asking us to recall that now he is in a relationship with a journalist Valerie Trierveyler for the sake of whom he abandoned his school love and an intraparty opponent Segolene Royal. By the way, he has four children from the latter.
This information came out when the edition of the tabloid Closer published seven pages with pictures and revelations about the alleged romance of the French President with a popular 41 year old actress Julie Gayet, who starred in more than 50 films. Rumors about their affair were around the Internet for months.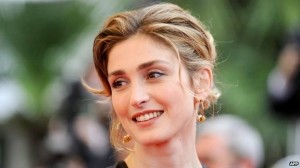 After that Francois Hollande threatened to sue the magazine, because he thinks that this publication is an "infringe on privacy." But before that, In March last year, Gaye sent a complaint to the prosecutor's office in Paris, accusing several bloggers and various websites spreading rumors (if you remember I've told that the rumors about their affair spread in the Internet). However, this led to nothing. What's more interesting for me, however, is that the President actually didn't deny all these rumors.
As for me, I think that Hollande's behavior resembles the French amorous adventures of his predecessor Nicolas Sarkozy. And of course this new accusation of love affair and relationships with the famous actress Julie Gayet, can negatively affect not only President's family life but also his political career. As far as I know, Francois Hollande has now one of the lowest ratings in the history of the presidency in France – no more than 30%. Hollande is being regularly criticized by his own citizens, and it is entirely predictable that this new threat to the reputation of the President is connected with the desire to set up a negative attitude towards him from the rest of society .
I do not know whether these rumors are true, maybe Julie Gayet and Francois Hollande affair is just a fiction. However, there is no secret that the Western media, which have quite a considerable practice of protecting their rights regarding the information they publish in the court, would not have printed the information that cannot be confirmed. And if it is printed, it means they have specific legal arguments to prove that the article is not just an invasion of privacy, that it is on the contrary socially important information. Well, we'll see.